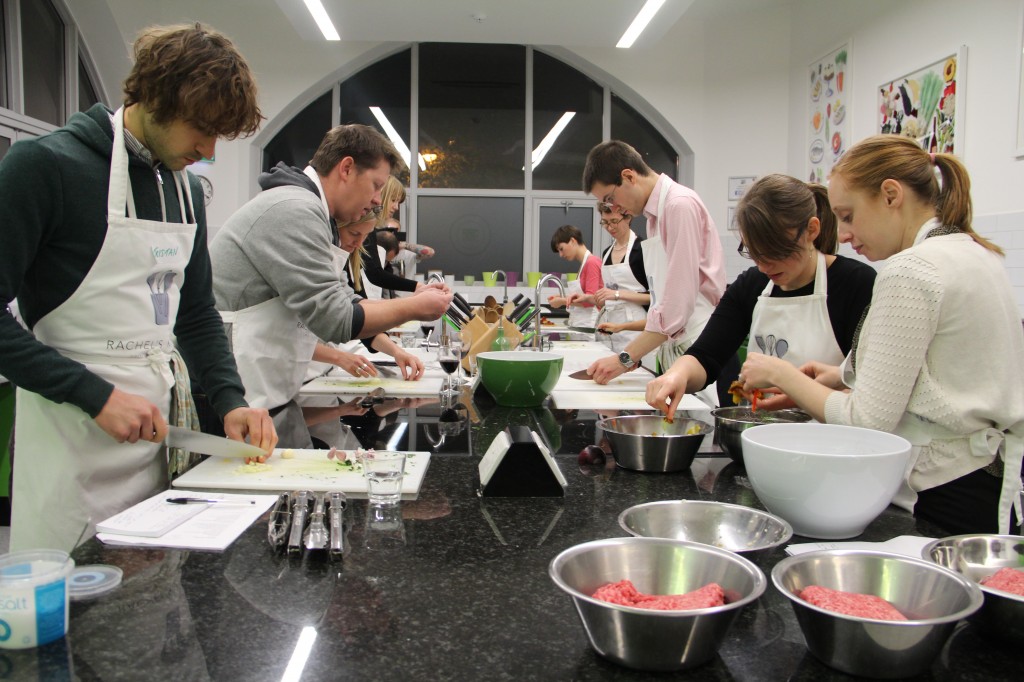 For testimonials, a good place to start is our Tripadvisor page, and we're delighted to have received a Certificate of Excellence from our reviews.
Our classes have also had some lovely write-ups. See below for a selection of reviews and links to some of the articles we've been in.
Looking to Cook reviewed our Spanish Tapas class
Emerald Street interviewed Rachel as they focussed on 'hobbies'
London Living named Rachel's Kitchen as one of their Top Five Sushi experiences in London
Experience Days reviewed our sushi class
30 dates founder Charly Lester took a blind date to our sushi class
You can read up on another blind date who had a private class with Rachel. Here it is from his perspective and from hers
Forward magazine wrote up a more unusual class, with Rachel cooking some recipes from the 1800s with the educator Maureen Kendler
We were also finalists in the Cookery School Awards 2013 and 2012, and in the Looking to Cook Awards 2012
And if you're looking for more articles, Rachel also writes for Great British Chefs
———————-
"This was the first time that IKEA Wembley organised a live cooking demonstration and working with Rachel was a real pleasure! For our 'Cooking time' event she created two exciting Swedish inspired recipes which she made in front of the customers in our kitchens department. You could easily see that Rachel felt very natural and relaxed with our customers, while at the same time she was cooking, explaining and answering questions.  It goes without saying that the food was delicious and luckily we had some extra samples to be shared with co-workers as well!"
Ida Radovanovic, Marketing Specialist at IKEA Wembley
We had a wonderful afternoon with Rachel's Kitchen learning some recipes from Persiana, which I ordered immediately on returning home. Rachel made the recipes much more approachable than when I initially open a cook book. She gave us some great cooking tips, as well as suggestions of how to adjust the recipes if we couldn't get hold of all the ingredients. She explained everything very clearly and together we managed to put together one of the yummiest meals I have had in a long time. I would thoroughly recommend this to everyone, especially those who are perhaps a little intimidated by recipe books.
Leonie, Tripadvisor May 2015
This was one of the most well run classes I have ever been to. Extremely creative and tons of fun…we didn't want the day to end! Rachel is not only incredibly sweet and knowledgeable, she is also beyond professional. Fantastic idea for a hen party, our group was all 20-30 year olds but I recommend it for any age group. Cannot wait to try Rachel's sushi making class!
Meghan, Tripadvisor June 2015
"I recently attended Rachel's pasta making class. It was a thoroughly enjoyable evening, Rachel is an excellent teacher, full of patience and enthusiasm in equal measure. As a complete pasta-making novice, going into the class I wasn't confident about my ability, Rachel demonstrated and explained each step and our pasta was absolutely delicious!"
Pippa Bloom
"We have involved Rachel in a number of our corporate programmes, using her culinary skills to help our clients explore themes such as group dynamics, creative thinking and stress management.  Rachel's Kitchen has proved itself to be a fantastic vehicle for really embedding learning around both leadership and team development.  We hope to do more work with her in the future!"
Miffa Salter, Director at Urbancanda
"We had Rachel come in and teach our team to cook for our Xmas party at Top Left Design. She was well prepared and came beforehand to scope our our kitchen and equipment. She gave us menu options ahead of time and tweaked things according to our tastes. On the evening she arrived and waited patiently for us to finish work. We each got lovely branded aprons to wear and she showed us lots of great chopping and cooking tips. It seemed almost effortless and a lot of fun – and amazingly at the end we had produced gourmet quality delicious food. We took lots of pictures which are of course proudly displayed on our Facebook page. Professional, fun and effortless! Thanks Rachel for a memorable team building experience!"
Keren Lerner, Director and Designer, Top Left Design
"My mum and I enjoyed a great evening cooking tapas with Rachel last week. Apart from having fun we learnt lots of handy techniques (such as how to roast peppers rather than just burn them!) as well as some very useful knife skills (I can now fine dice a shallot perfectly!). Rachel was lovely; instantly welcoming, and patient & up-beat throughout the session. The food we made was delicious and I will definitely be using the recipes again to impress my friends. Many thanks Rachel for helping to make my mum's birthday celebrations special!"
Vicky, Tripadvisor review, February 2014
"My friend and I recently went to the three hour sushi masterclass at Rachel's Kitchen and we had a great time. As soon as we arrived we were offered refreshments and wine, and they made sure our glasses were never empty, which is always nice! Rachel explained the different sushi making methods and demonstrated them in front of us, and then we all got stuck in; once she'd shown us the technique it was a lot easier than I thought, and any mistakes didn't really matter as you got to eat whatever you made! Once we all had got the hang of it we began to make lots of different types of sushi using a really wide variety of vegetables and fish. At the end we all pooled our creations and had a sushi feast. There was also Sake wine to complement the food, and Rachel's delicious homemade ice cream, with flavours in green tea and wasabi! My friend and I had a really great time and feel that we will certainly be able to make decent sushi ourselves now. Rachel also sent us an email afterwards with recommendations for the best places to buy sushi equipment and ingredients, and some recipe ideas. It was a great evening and I would definitely recommend it to anyone who likes sushi and wants to be able to make it themselves!"
Selene, Tripadvisor review, September 2013
"My husband arranged a cooking lesson with Rachel for my birthday and it was a fantastic afternoon of fun, cooking tips and great food.
After discussing what I wanted to learn to cook – Rachel can clearly cook anything! – Rachel came over to my house bearing all the ingredients required and showed me exactly how to make fresh lemon pasta, squash and ricotta tarts and cinnamon crime brûlée. She was full of knowledge and able to explain and demonstrate why a pasta dough is entirely different to a dough for a tart. By the end of the afternoon I had a mind full of cooking tips and a fridge full of fabulous food. Really good fun and definitely recommended."
Jinny, Tripadvisor review, March 2013
"I took my parents to Rachel's Pasta cooking class as a birthday present. Mum hasn't stopped talking about it and all her friends now have this on their list to do.
Rachel organised such a great evening, the food and company was fantastic and I have since purchased a pasta machine to make my own at home.
For a unique evening of enjoyment with friends (and dinner), try out one of Rachel's cookery classes. Sushi is next on my list!"
Matthew Turner
"We're always looking for ways to get the team together away from our computers and this sushi lesson was the perfect choice.  Rachel provided everything and explained the process clearly and professionally.  Her skills are spot on and very impressive!  It was great to see the team learning and having fun together and the end results were a sushi feast.  The team are still talking about it!"
Michael Murdoch,  Founder and Creative Director at The House London
"Rachel hosted a Sushi making lesson for a hen party that I was organised. From my initial point of enquiry, through discussions of budget and options to delivering the class, Rachel was very helpful.
Rachel's organisation and planning were evident as soon as we arrived for the lesson. Due to her forethought and experience, the evening ran very smoothly.
The class was well paced, with Rachel mixing technical knowledge and engaging antidotes throughout. Everyone was very pleased with what they learnt and charmed by Rachel's warm and engaging manner.
Rachel followed the lesson up with copies of the recipes and photos arriving within a few days. The whole experience was excellent and I will be back at the first opportunity to learn from Rachel again."
Caz, Tripadvisor review, February 2013
"Rachel very spontaneously and generously invited me to shadow her during one of her cooking classes, after we met at food events in London and I expressed my interest in chef training. I was impressed by the effort, planning and organisation that goes into making her classes work both as culinary course and social gathering without impinging on gastronomy or atmosphere. My recommendation, however, and it is unreserved, is based on the passion and charm with which she leads Rachel's Kitchen. She is an exceptional instructor, delivers events with flair and works tirelessly to make the experience of her guests and students exceptional."
Mervin Valaydon 
"Booking the lesson online was very easy and Rachel contacted me to discuss recipe ideas for a bespoke lesson. We decided upon fresh ravioli filled with butternut squash and a sage, lemon and butter sauce. For pudding I thought I would ask to make something even more ambitious; macarons.
The lesson really was fabulous. Rachel was patient and it was helpful to cook alongside her, so that you could see how pasta was meant to be rolled. Rachel was friendly and gave very useful tips. A week after the lesson I have already replicated the pasta at home and it was delicious and I followed the recipe that Rachel gave at the end of the lesson to take home. The macarons were lovely and definitely something I will try soon.
The lesson was just over 3 hours long and the location was a 10 minute walk from Finchley Road tube station and very easy to find. It was nice to sit down and enjoy the fruits of our labour with a glass of wine at the end.
A superb day and experience. I would recommend it to anyone; from complete novices to those who want to learn something special. It is also an excellent birthday or anniversary present for someone as well as being an original gift idea. Worth every penny."
Hannah, Tripadvisor review, December 2012
"Over the last year I've had a series of lessons with Rachel and each lesson I am learning more an more. The variety of things I've been able to learn. Not being very confident at cooking I really feel like I can now cook a meal for friends and family that I just wasn't confident before.
Amazing, passionate, committed, Rachel makes it fun and easy and makes me want to learn – I look forward to our lessons every week. We've made simple, quick and easy things to cook alongside full 3 course meals… If you're a beginner or someone who wants to try some new ideas, as a gift or for yourself I can't recommend Rachel more highly.
Having done one of the Jamie Oliver's sessions – Rachel exceeded all my expectations and gave a much more personal service that left me feeling like I could re-create the meals on my own and with confidence to try new things that I never thought possible."
James Eder, Director and Founder of The Beans Group