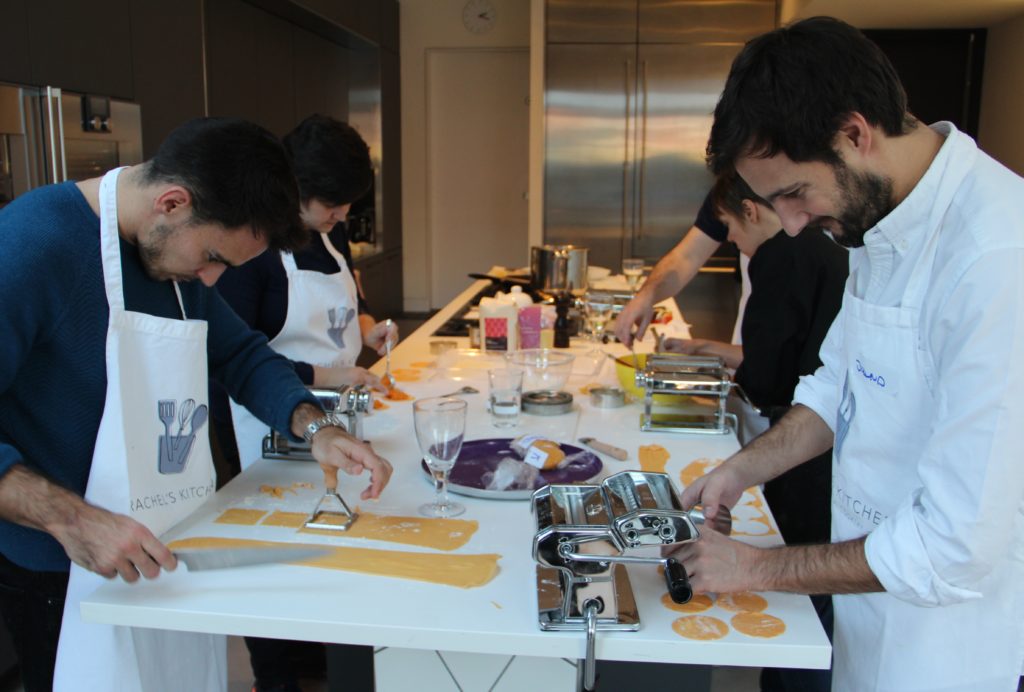 Rachel's Kitchen corporate workshops combine cookery and team building for small groups in a beautiful kitchen in East Finchley, N2 (East Finchley is 15 minutes from King's Cross) or in alternative venues for larger groups. 
Our workshops use cookery and patisserie as a vehicle to better understand your team's personalities, as well as their delegation and communication skills.
Or perhaps you have a group of people you'd like to introduce to each other in a fun, informal environment.
Cooking together is an ideal way to bring people together.
——-
Previous clients include IKEA, Facebook, BNP Paribas, Cisco Systems, Eventbrite, Mayor of London, Outfit (Arcadia), Muubaa, The Chocolate Festival, Ketchum, A2Dominion, Icons of Denmark, Misys, a number of magic circle law firms, and local authorities.
——-
Sessions can include a focus on:
– Team Building
– Stress Management
– Creativity
They can also help in building and developing team and client relationships, providing a new and exciting way of entertaining in a relaxed environment. Prepare food, cook, eat and enjoy together in a relaxed environment.
——-
You could be rolling sushi, piping profiteroles, or making hand-made ravioli before enjoying the food together.
All events are bespoke, so please contact us to discuss your requirements.
If you're interested in a corporate event, have a look at our upcoming cookery workshops to come along and see what we're about.
——-
Case Studies
ClearlySo, a financial services firm, used the Patisserie Challenge for their team building event. Following company growth and new team members starting, the Patisserie Challenge fostered some healthy competition, and in a light-hearted way helped the team to get to know each other better.
"We signed up for Rachel's Patisserie Challenge, which turned out to be a great opportunity to get to know each other outside of the office and learn new baking skills. Everybody really enjoyed the afternoon!" Zoe Tabacek, ClearlySo
Cisco Systems used Rachel's Kitchen for their Internship Programme as a way of bringing together interns, managers and senior leadership. After work, everyone gathered in the Cisco canteen for drinks and canapés, before taking part in a sushi class. Teams then competed for the best plate of sushi, presenting their finished plates before the senior leaders. Everyone then ate their sushi and networked over dinner.
Cisco then repeated this for the first day of their Graduate Programme, as a way to introduce the graduates to each other and their managers, and as a way to welcome them to the company.
Eventbrite brought in Rachel's Kitchen for Britefest, an evening pop-up festival in Shoreditch. We offered a sushi rolling stand where party-goers could make sushi rolls before enjoying their creations.
——-
Testimonials
"We have involved Rachel in a number of our corporate programmes, using her culinary skills to help our clients explore themes such as group dynamics, creative thinking and stress management.  Rachel's Kitchen has proved itself to be a fantastic vehicle for really embedding learning around both leadership and team development.  We hope to do more work with her in the future!"
Miffa Salter, Director, Urbancanda
"Rachel ran team building exercises for two teams within the company. She created an event which the attendees felt was the best they had ever attended. Rachel put people at ease and showed great ability to pass on her knowledge and practical experience."
Steve Barnes, Director of HR
"Rachel delivered a fantastic away day session for my Communications Team. Working with Trainer & Facilitator Miffa Salter, Rachel used baking as a team building tool with great results. It was an active and enjoyable afternoon. Would highly recommend."
Caroline Abomeli, Head of Communications