17/01/2012
How to beat Valentine's Day
By Rachel Davies
Valentine's Day is a bit like Marmite (which incidentally, I love). There were years when I didn't want to acknowledge Valentine's Day, in all its loved-upness. I felt a bit sick every time I saw roses, cards, or smug couples gazing at each other.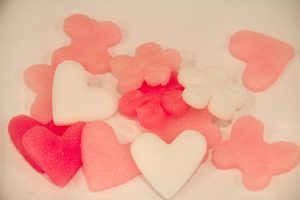 And now I have a lovely husband, so perhaps I should embrace Valentine's Day in all it's commercial, pink and red roses and a box of chocolates, glossy glory. A day to celebrate love is no bad thing. Actually it's great.
But the overpriced 'special' menus in restaurants on February 14th with heart shaped breadsticks mean that it's not necessarily a day to get out there and spend. I'd rather cook a lovely meal, and go back to the same restaurants a day later, when the prices are lower and the man selling roses has gone.
It can also be a time to get creative, both as a way to express yourself, have fun, and maybe save a little money in the process.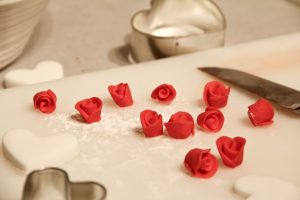 I'm running a class in NW London on February 9th to make a Valentine's Day cake. I'll provide everyone with a round sponge cake, which you'll cover in marzipan, fondant icing, and a bright ribbon, and then, having been shown methods and tips to decorate the cake, it's up to you to write your own personal message, cover it in sugar roses, or turn it into a work of art. Your loved one won't fail to be impressed.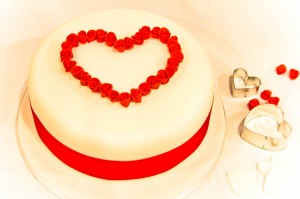 The class is perfect for beginners, if you have basic cake decorating skills and want to brush up on them, or if you just want to learn how to make a beautiful personalised cake.
The Valentine's class is 7-9pm at the lovely CC's cake shop in Queen's Park, costs £35 and it will be relaxed and lots of fun. I'd love to see you there!
Contact me through the website or hello@rachels-kitchen.com if you'd like to book or for more info.
You might also like:
Or sign up for one of Rachel's cookery classes for plenty more delicious dishes.